The Office of Strategic Services
The original Office of Strategic Services (OSS) was a wartime intelligence agency of the United States during World War II, and a predecessor of the modern Central Intelligence Agency (CIA).

CONFIDENTIALITY & LOYALTY:
The OSS° knows that some things need to be kept secret & will sign your NDA or provide one if desired. >> If you are not working on open innovation with us – in the Pool°, of which the OSS° is the first entity & incubator.
I believe that in our work, we should always aim at creating VALUE & BENEFITS for people. Working with the OSS° can offer many benefits for you:
Please send an e-mail with your task, question or problem >> and a proposal for a TC timing (Hamburg, Germany / CET).

TECHNICAL FEASIBILITY:
This site is best viewed with FRAMES to get bookmark thumbnails for navigation & to enable convenient browsing through the different contents & presentation materials.
Launch >> Site with Frames // >> OSS° Simplified
Search Engine Optimization
What is SEO / Search Engine Optimization?
Search Engine Optimization is a part of SEM (Search Engine Marketing) and can bring your website more traffic from search engine results – ongoing and without paying extra for advertising. With perfect SEO, your website can be listed on top of the organic search results, just below the paid results.
You can google the keywords "Packaging Innovation Consulting" to see that I am on the top page of organic results with the OSS°. And I am happy to provide a tailor-made SEO strategy for you as well. Ideally, SEO keywords are defined at the very start of the content creation process.
A search engine wants to bring up the right results for their users or tries to answer their questions in the best way. Your website basically needs to persuade the search engine that it has the most useful content for a specific user intent presented in the very best way.
>> Article: How to do SEO // Search Engine Optimization in a Nutshell
Credibility Signals (E-A-T)
Google uses the acronym E-A-T to explain how they are judging credibility. Google does this at three levels -- the page, the author, and the website. The three components of E-A-T are:
Expertise
Authoritativeness
Trustworthiness
Looking at the above, it becomes clear why proper use of social media can help a lot with SEO. In the article above, I am explaining SEO and this fact in more detail.
SUSTAINABLE STRATEGIES:
The Wheel° is the OSS° standard tool for strategy definition, knowledge transfer & democratic decision-making. The system works with the definition and evaluation of BENEFITS & VALUES – and this is what makes strategies sustainable.
Research & Strategy
>> Website: GS Online Go
I have read a lot of things – books mostly, and I am still reading books, but today it is more on the internet. As a kid, I enjoyed reading Julius Caesar's Gallic War - completely, including all the descriptions of the entrenchments.
Which are many, since Caesar knew more than anybody else that it is first "WHO SWEATS WINS."
Caesar was not only a strategic genius, he also had an iron will & knew when it should pay off to take a RISK – he knew that in the end, it is "WHO DARES, WINS." Looking back, I think that Julius Caesar was one of the men that shaped my character with their role model. He filled a part in me that needed such a role model – the STRATEGIST.
Areas in which I am an expert writer by means of vocabulary include design and marketing as well as the packaging, printing & FMCG industries:
>> Article on Medium: Christmas Seasonals: Packaging Enhancements & Gift Value
This also helps a lot when I am working on presentations, since here, changing the length of text parts alone can be very important to achieve a perfect aesthetic result. And the best concepts are those where wording & imagery work hand-in-hand!
In marketing & innovation Strategy, I do not believe in relying too much on empiric data. Not at all. This way of working is uncreative, limits the options, and lets us forget the value of the gift of intuition.
Instead, I believe in holistic strategy & intuitive process tools that work with expert evaluations & democratic decision-making. Tools like the Wheel° help to direct & enhance the valuable communication between the different disciplines of mixed teams.
>> PDF: OSS° -- Holistic Strategy Tools // (open in new window)
WINNING CONCEPTS:
True beauty comes from within >> from the concept behind. I am especially good at creating beautiful company / sales / marketing presentations for almost anything.
Content Writing
I have not only read a lot of things, I am also a skilled writer – for writing prose as well as for the efficient communication of information, in German or English: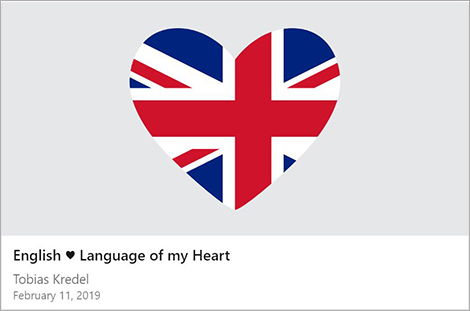 >> Article on Medium: English ♥ Language of my Heart
>> Article on Medium: Our Addictive LOVE ♥ for Athena° // Super AI Assistant of the Future
As a strategist, I am always thinking several turns ahead. And by thinking the Super AI development several turns into the future, then the most probable scenario for me is that mankind will always use the same ONE super AI in all critical areas. Because letting a Super AI taking action in a hyper-connected world requires TRUST.
And it will also not be long until super AIs – like Athena° – will actually be there for us, so I am already developing her brand. And we also need to define how super AIs must be created so that we can TRUST them.

In a little while, Athena° wants to become a 100% reliable & transparent, democratic super AI for the Pool° Organisation.
AESTHETIC DESIGN:
As an experienced graphic designer with a diploma in Information & Media Design, I can beautifully visualize complex information to explain your company or my strategic recommendations.
Information & Infographic Design
The Pool° is a visionary concept for the future of work, based on accelerating innovation through open innovation while aiming at decelerating the people and creating innovation that is good for humans and good for the planet. The packaging industry has been chosen as exemplary, but the concept can be transferred to many other industries: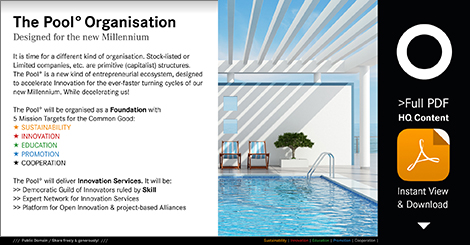 >> PDF: Pool° Organisation Presentation // (new window)
>> WEBSITE: www.poolorganisation.org
The two info posters explain the organisation mechanics and structure of the Pool° Organisation as it is currently envisaged:
>> PDF: The Pool° Organisation Mechanics Infoposter
>> PDF: The Pool° Organigram Structure Infoposter
This article contains the description of an alternative Currency System for the Pool° that is working with 4 different Types of Crypto Currencies (none of them like Fiat Money) including two Types of Currency that allow to directly exchange TIME!
>> PDF: Pool°TIME! >> The WAVE°App World Conquest Plan // (open in new window)
I love to create beautiful company / pitch presentations for almost anything. And I am really good at this because I am both designer & marketer. With sales experience & almost an engineer... writing great content in English or German & with a talent for picking the right pictures.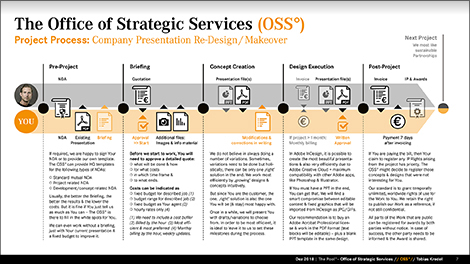 >> PDF Chart: Project Process -- Presentation Re-Design / Makeover // (open in new window)
So I am happy to take an existing PowerPoint and add beauty, images and structure, but I can also start from scratch, just from a briefing. Clean typography and high-level aesthetics are my standard and a large amount of Adobe Stock Images is included in the hourly rate, since I am getting a monthly contingent that is usually sufficient for my own work. With my special background in information design, I am also an expert at creating infographics and icons of any kind.
MULTIDISCIPLINARY SKILLS & VETERAN EXPERIENCE:
Among other things, I have successfully worked as screen & web designer, packaging designer, interdisciplinary project manager, brand & development strategist, innovation consultant and (ideation) workshop facilitator as well as social media expert.
Tobias

Kredel


Master of Packaging, Design & Marketing (M.Sc.)
Diploma (FH) Information & Media Designer
Based in Hamburg, Germany (+/- 0:00 CET)
tobias@poolorganisation.org
Working in the design industry since 1999, I am looking back at two decades of experience in various roles in different agencies, always with a multidisciplinary service offer. 
My first professional job in graphic design was for a touchscreen-terminal in the visitor centre of the German Department of Foreign Affairs in Berlin. Due to my special skills in information design, I was so lucky to be trusted with the design work on this project at the corporate design agency PLEX in Berlin (now PLEXGROUP) during the years 1999/2000 – while I was still studying design. Back in the days when there was no USB yet, cellphones were still bulky & not smart and a PDA could be used as a symbolic image for economic competitiveness:
>> PDF: Auswärtiges Amt Berlin - Touchscreen Terminal // (open in new window)
TIME-EFFICIENCY:
Multidisciplinary expertise allows me to take more than one role for you. This makes things easier for you – and helps to save lots of time that would otherwise be needed for additional communication.
E-Book Creation
I am designing e-books and also publishing my own on Google Play / Google Books and Payhip. Below You find the embedded Payhip Pages as well as some extract pages that are displayed when you click the thumbs:
For this 27-page graphic PDF e-book, I defined the concept, wrote the content and designed the layout and infographics. The e-book was created in ONE week, while I quit smoking again.